What is Custom Vinyl Printing?
Personalizing designs, graphics, and text on vinyl is what makes custom vinyl printing a unique printing service. Vinyl is a versatile and long-lasting medium that supports high-quality printing. Printing technology has improved to the point where unique patterns may be transferred straight onto vinyl and printed.
Advertising, branding, event promotions, and other forms of marketing frequently make use of custom vinyl printing. It's a flexible and affordable option for organizations and people who want to tailor their communications and develop original graphic assets.
Uses of Vinyl Printing Services?
Vinyl printing services are available from Anubhav Advertiser for a number of uses.
Custom Vinyl Stickers: Vinyl printing enables the manufacturing of stickers with unique designs for use in advertising, product labeling, and the production of one-of-a-kind presents.
Vinyl Banners: Vinyl banners can withstand the elements and look great even after repeated printings, making them ideal for outdoor advertising, events, trade exhibitions, and storefront displays.
One-Way Vision: Window graphics that use one-way vision vinyl can still be seen through from the inside while advertising or branding can be seen from the outside.
Stickers: besides personalized vinyl stickers, general stickers for labeling, packaging, and promotional giveaways are produced with vinyl printing.
Wall Graphics: Wall graphics are easy to make using vinyl printing, making them perfect for use in homes, offices, and stores.
Vehicle Wraps: Wrapping a car, bus, or van with vinyl printing makes them a moving billboard for your business.
Floor Graphics: Floor graphics are printed on vinyl and placed in stores, events, and trade exhibits to direct customers and advertise products.
Backlit signs: Backlit signs are illuminated, eye-catching displays made possible by vinyl printing.
Mesh Banners: Outdoor banners made from mesh vinyl printing are more wind-resistant and easier to set up than conventional banners.
Translucent Signs: Printed on vinyl, translucent signs are utilized for backlit window displays and other indoor applications.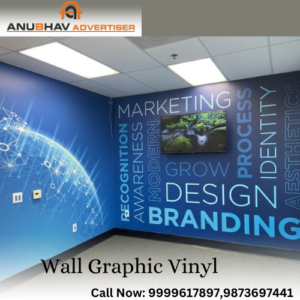 Anubhav Advertiser's vinyl printing services are ideal for businesses and people who need unique, high-quality graphics for marketing and promotion.
Call Us: +91 9999617897