Sunpack printing is a type of printing that uses sun board sheets, which are also called foam board or foam core sheets, to make signs and promotional items. Sunpack sheets are made of thin, stiff foam that is stuck between two pieces of paper or plastic. They are often used in the advertising and sign-making industries to make low-cost displays that look good.
Anubhav Advertiser can offer printing solutions for Sunpack for the production of advertising components including:
Poster Displays: Sunpack sheets can be used to produce eye-catching poster displays by printing high-quality graphics, photos, and text. These posters are great for presentations, trade shows, and other interior displays.
(POS) Point Of Sale Material: Sunpack printing is ideal for producing point-of-sale (POS) goods including standees, counter displays, and other merchandising aids for use in stores.
Signage for Events: Sunpack Sheets can be used to make banners, backdrops, and directional signs for gatherings, conventions, and other events.
Outdoor Signage: Although sun pack sheets are often used indoors, they also have a temporary outdoor signage application. Due to their portability and simplicity of assembly, they can be used for short-term outdoor exhibitions.
Cut-Outs and Standees: Since Sunpack sheets are so versatile, they may be used to create a wide variety of eye-catching displays, including cut-outs and standees.
Campaign Posters: Using sunpack printing, businesses, and groups may generate campaign posters for use in promoting events like product launches, sales, and other promotional activities.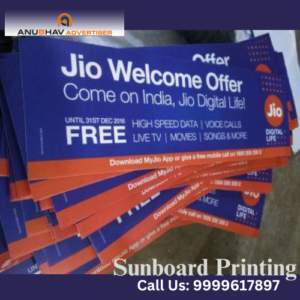 The Sunpack printing process normally involves:
Design: Clients offer artwork, images, and content for sunpack sheet printing. The Anubhav Advertiser design team may help optimize the design for printing.
Printing: High-quality UV or digital printing is used to print the design on sunpack sheets. This delivers sharp images and rich colors.
Cutting and Finishing: Sunpack sheets are trimmed to size and shape after printing. Precision cutting makes the result look polished and professional.
Assembling: Sunpack sheets can be constructed according to design parameters.
Delivery and Installation: The client receives the sunpack prints carefully wrapped. Occasionally, Anubhav Advertiser may erect larger displays.
You may get services such as creative design, high quality, customization, fast delivery, best pricing, and any more services that you may want from Anubhav Advertiser when you need Sunpack printing services.
For more, Contact No.: +91 98736 97441