Signages manufactured from stainless steel (SS) are called SS signs. These signs are made by individually cutting letters, numbers, and symbols from sheets of stainless steel. Stainless steel signs are long-lasting, resistant to rust, and visually appealing. They provide an air of professionalism and modern design to a wide range of business interiors and exteriors. SS signs are adaptable for use in a variety of contexts due to their adaptability in terms of size, typeface, and finish. At Anubhav Advertiser we offer a premium, long-lasting signage option, perfect for upscale offices, retailers, and other commercial spaces.
What We Offer:
Metal Name Signs: They showcase names or words. They can be used for labeling, personal identification, or decoration.
Personalized Metal Signs: These signs can be personalized with names, phrases, or graphics. For varied uses, they add a personal touch.
Metal Wall Letters: These letters can be put on walls to form words, names, or beautiful arrangements. Wall decorations are beautiful and durable with them.
Metal Sign lettering: Signage-specific metal lettering. They come in various sizes, fonts, and finishes for business, address, and informational signs.
Steel Signs: Strong, sturdy metal signs. Steel signs are utilized for outdoor, industrial, and sturdy signage.
Personalized Metal Name Signs: Metal signage with names or words can be personalized. They're utilized as nameplates, door signs, and personalized gifts.
Decorative Metal Signs: Metal signs with detailed designs, artistic motifs, or ornamental features. They decorate indoor and outdoor locations.
SS Signages: Stainless steel signs. Stainless steel may be used indoors and outdoors due to its corrosion resistance. SS signs seem professional and trendy.
SS Direction signs: In public spaces, offices, and huge structures, they direct people to specific areas.
SS Safety signage: Steel Plates safety signage. They're often found at workplaces, construction sites, and public spaces to promote safety.
SS Plate Signages: Labeling or identification signs constructed of stainless steel plates. They're ideal for room numbers, nameplates, and other long-lasting signage.
SS Steel Signs: Durable, corrosion-resistant stainless steel signs for varied signage purposes. They're elegant and professional for indoor and outdoor use.
SS 304 Grade: A typical stainless steel grade noted for its corrosion resistance and adaptability. SS 304 is utilized in several industries, including signs.
Custom metal signs: Signs made to order. Custom metal signage allows for unique shapes, sizes, colors, and finishes to satisfy specific tastes or branding demands.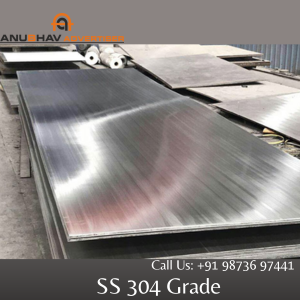 The top supplier or manufacturer of SS signs is Anubhav Advertiser. Contact us to learn more about the products and services offered by SS signages if you require them. We have the ability to offer a variety of SS signages, such as the ones we previously mentioned, including SS Direction Signages, SS Safety Signages, SS Plates Signages, and more. For further information and to discuss your unique signage needs, make sure to get in touch with us personally.
Contact No.: +91 98736 97441