Roll-up banners are widely used as effective marketing and advertising tools in a variety of settings, including events, trade shows, conferences, retail spaces, and promotional activities. These banners are also referred to as retractable banners or pull-up banners. The banners are designed for easy transportation, setup, and takedown, making them a convenient and effective method for displaying information and capturing attention.
If you are in need of roll-up banner services, Anubhav Advertiser offers a range of common offerings that you can expect from companies providing such services.
Design Assistance: Numerous roll-up banner service providers offer design assistance to assist you in creating an attention-grabbing and polished banner. They might have a group of graphic designers who are able to collaborate with your ideas or branding guidelines in order to create an aesthetically pleasing banner.
After the design is finalized, the service provider will take care of the printing and production of the roll-up banner. To ensure a vibrant and durable banner, they utilize high-quality materials and employ advanced printing techniques.
There are different types of roll-up banners to choose from, including single-sided, double-sided, and deluxe options. Additionally, they provide a range of sizes to accommodate your specific requirements, including tabletop versions and larger floor-standing banners.
The service provider will ensure that the banner is equipped with a user-friendly assembly process and a dependable retracting mechanism. This feature enables easy and efficient setup and takedown without any inconvenience.
Delivery and Shipping: Certain companies provide delivery services to ensure that your roll-up banners are delivered to your desired location promptly. Additionally, they may provide shipping options for customers who require banners to be delivered to various locations.
If you require multiple roll-up banners for different events or locations, you can take advantage of discounts offered by many service providers for bulk orders.
Replacement Graphics: Certain companies offer the convenient option of replacing banner graphics without having to replace the hardware. This can be a cost-effective solution, especially if you have multiple marketing campaigns.
Storage and Maintenance: Some companies provide storage and maintenance services for businesses that need to use roll-up banners for an extended period. These services ensure that the banners are well-maintained and in optimal condition for future use.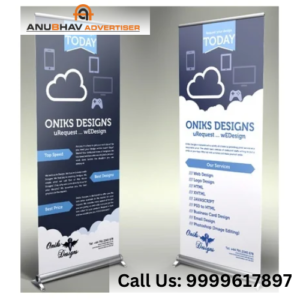 When looking for roll-up banner services, it is important to take into account factors such as pricing, quality, turnaround time, and customer reviews. At Anubhav Advertiser, you can find a range of services including marketing agencies and online banner printing services. It is important to clearly communicate your requirements and discuss any customization or design needs you may have.