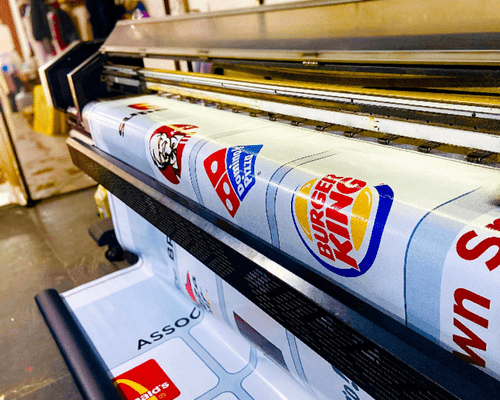 You will surely notice large-scale billboards on every highway and city street. On the other hand, our neighborhood is covered with small banner printing promoting businesses that are strung from power poles, apartment building walls, and even trees. Nowadays, outdoor advertising is widespread and available to companies of all sizes. This is because flex printed ads are the most appropriate and economical choice for this marketing industry.
Banners, GST Boards, billboards, car and building wraps, trade fair displays, and other substantial advertising items are often produced using flex printing. The printing material's flexibility makes it simple to apply on different surfaces and constructions, and its high-resolution output makes sure that the finished prints are colorful and aesthetically attractive.
The following procedures are involved in making up flex printing:
Creating the artwork: Digital software is used to design the print while taking into consideration the size and resolution specifications for the finished product.
Preparation of material: The flexible material is trimmed to the proper size and form, and any grommets or hemming that are needed are applied.
Design & printing: A large-format printer is used to print the intended artwork onto the flexible material.
Finishing: Following printing, the print is checked for quality and given any required finishing touches, such as cutting, laminating, or mounting.
Compared to conventional printing techniques like screen printing, flex printing has a number of benefits. It can make precise, high-quality prints more quickly and effectively. It is also economical since it makes it possible to produce prints on a big scale for a relatively cheap price per unit.
Aspects that define an Outdoor Flex Printing:
The following requirements must be met by any prints intended for use in outdoor advertising.
Weather Resistance

:

 The prints must be watertight. The inks should remain intact when exposed to rain. Also, the visuals should not fade in direct sunshine.

Strength

:

The print medium needs to be strong enough to endure the environment. For example, the flex media shouldn't be able to be torn in two by a little breeze.

Cost:  

Lastly, outdoor prints are often enormous in size. Outdoor banner printing may reach heights of 8 to 10 feet. And hoardings are quite enormous. Therefore, the unit cost of these prints must be reasonable.

Quality: 

Banners on a tree or pole are seldom seen up close. Highway billboards are visible from hundreds of feet away. Moving vehicles give these outdoor ads a quick peek. Outdoor prints needn't be high-resolution. 

Low or medium-resolution prints cost less than detailed ones. The human eye can't detect modest coarseness from far away. Outdoor prints sacrifice resolution for cost.
Types of Solvent Flex Printing Available at Anubhav Advertiser:
At Anubhav Advertiser, we provide three distinct front-lit flex printing solutions, each of which is tailored specifically to a particular need.
1. Front-lit Flex: This is the most basic kind of flex print used for short-run advertising campaigns. The material is a thin 280 GSM medium. Despite its thinness, the medium is sturdy enough for hoardings and modest banner printing. On ordinary front-lit flex, images are typically rendered at a middling resolution. This product's key selling point is its cheap price. Front-lit flex is great for outdoor ads that must be left up for a few months. After this time period, the inks may begin to fade in the sunshine.

2. Blackback Flex: This flex medium solves a challenge unique to outdoor hoardings. Many times, the sun rises from behind hoardings placed in open areas. The sunshine then enters the print media. This light escaping from beneath the white-colored front-lit flex makes seeing the print on the front challenging. A similar effect may be observed when a printed page is held up to the tube light. When the light shines through, the letters get covered.

3. Star Flex: The majority of our clients choose Star Flex prints for their outdoor printing. Star is essentially a premium flex media brand. At 340 GSM, it is much thicker than standard flex. This indicates that the material is much more durable in an outside setting. Moreover, the front side of Star Flex features a better finish. This allows us to create photos with high quality. Moreover, the colors are exceptionally bright.

Star Flex is great for hoardings that need to be up for more than a couple of months due to the print's durability and superior picture reproduction. When printed on Star Flex, outdoor banners with high-definition photos and detailed photographs also provide excellent results.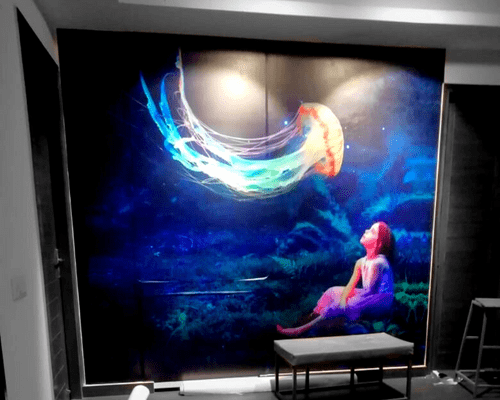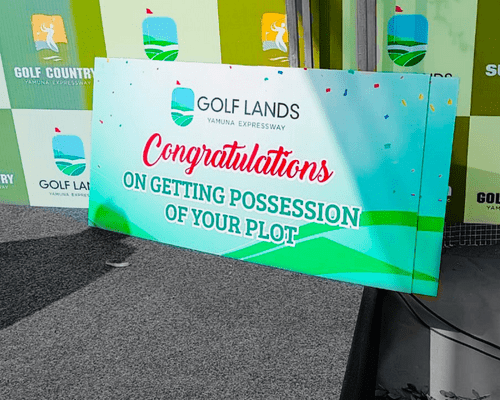 Stretchability - An Essential Quality for Flex Printing
Flex media is flexible. Moreover, this quality is essential. Flex prints may not be as elastic as an elastic band, but they are nonetheless flexible for a few mm. When flex prints must be mounted to a frame, this stretchability becomes significant. The majority of little banners hang loosely and flutter in the wind. However, huge prints must be placed on a metal framework. Front-lit and back-lit flex are also used in the production of basic shop boards. In this instance, the media must have adhered to a metal frame.
And since flex media is flexible, it may be stretched firmly on a metal frame. The final result resembles a well-made, flatbed or an animal hide stretched firmly on a drum. A framed flex print may now seem exceedingly tight and flat. Although the material is loose and resembles a bale of fabric, the framed print gives the appearance of a solid and smooth wall.
Summary
Service Type
Provider Name
Anubhav Advertiser
,
D-49, 1st floor, Sector-10 NOIDA-201301, Gautam Buddha Nagar
,
Noida Sector-10
,
Delhi
-
201301
,
Telephone No.+919873697441
Area
DELHI, GURGAON/GURUGRAM, NOIDA, MUMBAI, PRAGATI MAIDAN, GREATER NOIDA, PUNE, BANGLORE, CHENNAI, ETC.
Description
Are you looking for top-quality flex printing solutions that can effectively promote your brand? Look no further! At Anubhav Advertiser our team at Flex Printing Services specializes in delivering high-impact and visually appealing flex prints to help businesses like yours make a lasting impression.