Your branding and signage needs can be met with a touch of class and elegance when you seek the services of Anubhav Advertiser, a company that specializes in the production of high-quality brass letter and brass signages.
The accuracy and care with which our brass letters are created are evident throughout the final product. In order to meet the diverse needs of our customers, we have a wide variety of designs, dimensions, and surface treatments. We are able to produce custom designs that are reflective of your company identity and leave an impression that lasts, regardless of whether you require individual brass letters or complete brass signage.
Brass is a material that is both long-lasting and durable, and it lends an appearance of classic elegance to any sign. Our brass lettering and signages are hand-crafted using brass of the highest quality, which ensures that they are long-lasting and resistant to wear and tear. Because they are resistant to a wide range of climatic conditions, you can use them successfully in applications both indoors and outside.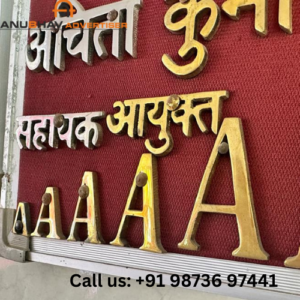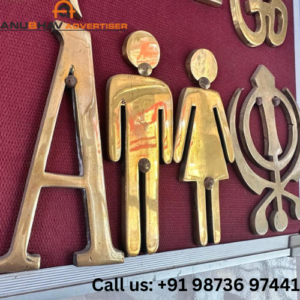 Our skilled team of artisans will work closely with you to comprehend the idea you have in mind and will then give individualized solutions. In order to manufacture brass lettering and signages with pinpoint accuracy and superior handiwork, we make use of cutting-edge manufacturing processes and cutting-edge technology.
At Anubhav Advertiser, we put a premium on the complete happiness of our clients and work hard to provide goods of the greatest possible standard. We go to great lengths to guarantee that the design, durability, and aesthetics of our brass lettering and signage are up to pace with what you require.
Please get in touch with us at Anubhav Advertiser so that we can discuss your requirements for brass letter and signage. Allow us to assist you in the creation of a spectacular and long-lasting signage solution that elevates the image of your brand and makes an impression that lasts.
Call Us: +91 98736 97441